Hamburg's fintech scene is lively and diverse. There are active companies from all across the fintech sector with focus i.e. on big data, personal finance or payment solutions. Our Fintech Monitor profiles and categorises all of Hamburg's fintechs.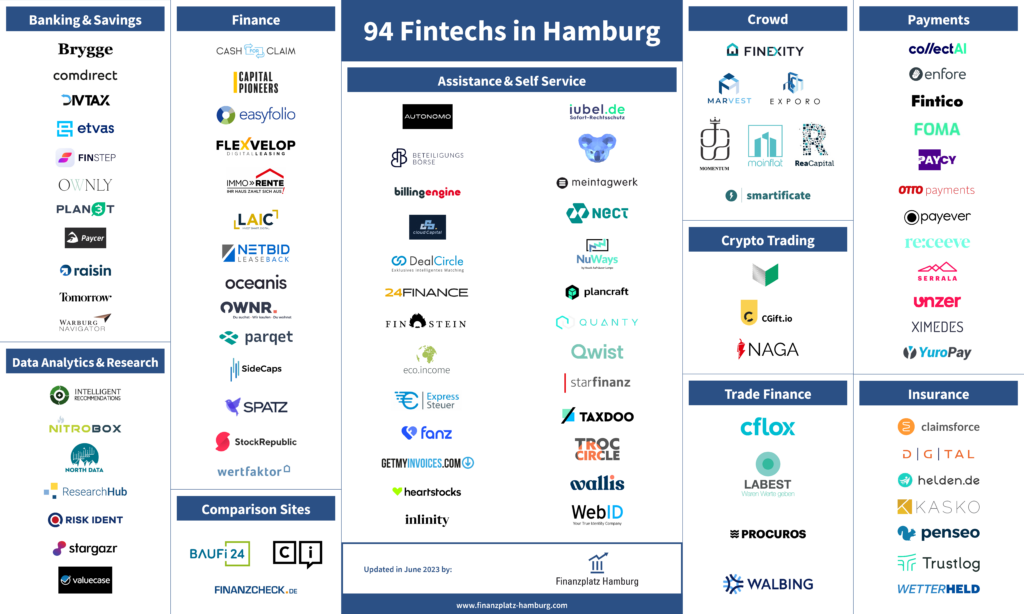 A LOOK AT HAMBURG'S FINTECHS
Here we present all the fintech companies in the various categories in more detail.
WHAT EXACTLY IS A FINTECH COMPANY?
Fintech companies include all companies and especially start-ups that deal with the digitalisation of the financial industry. Fintech is the combination of the words financial services and technology.
The aim is to use technological solutions to replace the approaches and processes the current approaches and processes of the financial industry.
and processes of the financial industry, and to improve and simplify them.
As you can see, there is happening a lot in many different sectors in Hamburg's fintech scene. More than 90 companies, many of them start-ups, are active in the Hanseatic city. This makes Hamburg one of the top four locations for financial technology in Germany.
Fintech Agency
As a trading centre, Hamburg has always thrived on its reputation as a cosmopolitan location. Accordingly, new companies and players are welcomed with goodwill. We want to help fintechs from Germany and abroad to develop Hamburg as a business location and support fintechs in all phases of the settlement process.